Author: Poppy Scarlett Lepora
Chances are, if you've ever used toys alone you can imagine the pleasure potential for using them with a partner. Even so, you might feel a little awkward about the idea of bringing them up – maybe you're worried about bruising your partners ego or just feeling a little shy about being candid about your desires.But believe me, the pleasure pay-off from having this conversation can be immense for both parties involved.If you're nervous about bringing toys into the bedroom, keep reading for some simple tips to help you on this journey.
Make it a Positive Conversation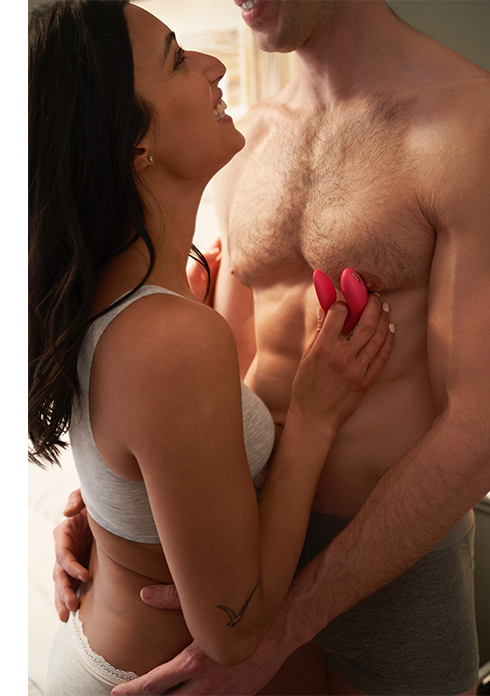 When it comes to any new sexual territory with a partner, communicating your desires and boundaries is absolutely key to ensuring that everyone is on the same page and having a good time. The same goes with introducing toys. 
This doesn't have to be a serious conversation – sex toys are built for fun after all. Start the conversation with an open mind and keep the tone positive. Make it clear that you want to try out sex toys for the good of both of you and centre the discussion around the pleasure of everyone involved.
You can say something along the lines of 'I've always been curious about trying toys with a partner and I think it would be really fun to do that with you' or 'I love it when we do X, I think it would be really hot if we also tried that with a toy'.
If you don't feel ready to have this discussion in the flesh, then having it over message is totally fine. You could send them an article you've seen about toys or get their imagination revving with some saucy scenarios. Try telling them that you'd love to put on a show and demonstrate how you use your vibrator on yourself or let them know that you've fanaticised about how a certain toy would feel if you used it together. 
Choose a Toy Together
Maybe you already have an enviable toy collection, but if your partner is a little nervous about using toys then buying one together is a great way to level the playing field and also allows you to pick something that you're both excited about. When it comes to what toy to choose, if in doubt, start simple and pick something non-representational (meaning it doesn't look like a body part) and aim to enhance the kind of stimulation you already enjoy in your partnered sex. A vibrating cock ring brings pleasure for both parties or a palm-sized clitoral vibrator can easily slide between two bodies. If you're into the idea of you or your partner taking control, then you could opt for an app-controlled vibrator that slips discreetly into underwear - it'll make date night all the more exciting.
Items like blindfolds or handcuffs are another simple way to add an additional sensory element to your sex life without venturing into the world of vibes and dildos.
Remember, This is a Totally Normal Request
Thousands of couples already use toys together and wanting to use them with your partner is nothing out of the ordinary. There's pleasure to be had for both of you, and toys will never replace the intimacy of a partner – they're simply tools for sensation and exploration.

Poppy Scarlett Lepora
Poppy Scarlett Lepora is a pleasure educator and owner of the online sexual wellness boutique, Self & More.
@poppyscarlett_  @selfandmore