Author: Poppy Scarlett Lepora
Once upon a time the male sex toy industry was all open-mouthed-sex-dolls and lumps of plastic shaped in the likeness of a vagina. These days your options are much more varied – the world of sex tech has given way to slick pieces of equipment and unlimited pleasure potential. Regardless of your relationship status or sexual orientation, toys are an excellent way to mix up your masturbation routine or add a new dimension to your partnered play – read on for a rundown of the latest toy styles and some top product picks for people with penises.
Penis Strokers
Chances are you've heard of the ubiquitous Fleshlight. These masturbatory toys are often referred to as 'pocket pussies', but the options don't end there. If silicone body parts aren't your thing (Google 'Vajankle' if you dare) then there are plenty of non-anatomical options available which give you all the pleasure of penetration with none of the realism. 
Product picks:
The Tenga Spinner is a squidgy sleeve with a metal spiral in its casing, which makes it dance all over your junk.  
Very much the Cadillac of masturbators – the Svakom Alex is a fully automated penis stroker that does aallllll the hard work for you.
Prostate Toys
If you were born with a penis then lucky you – you have a prostate too! Often referred to as 'the male G-spot', the P-spot is a gland located a couple of inches inside the rectal passage which can be stimulated by applying pressure internally. Butt plugs are an excellent starting point. They're super simple to use and free up your hands to focus on stimulating your penis for dual pleasure.  
Product picks:
The Bootie Plug by Fun Factory comes in three sizes and using it is as simple as slathering on the lube and gently easing it in. 
If you're ready to up the ante and invest in your prostate pleasure then look no further than the Pure Wand by Njoy. Use either end of this multi-use stainless steel tool to firmly massage your prostate.
Vibrators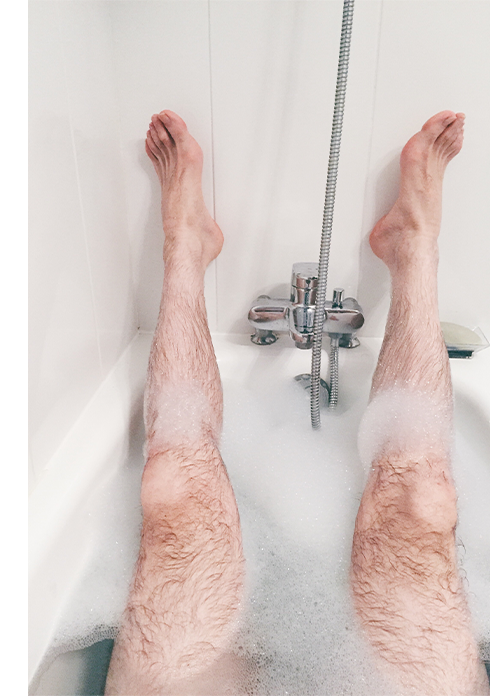 When it comes to vibrators, you might think that people with vulvas get to have all the fun. Not true! The penis has plenty of sensitive spots which feel delicious when stimulated through vibration.   
Product picks:
The Manta by Fun Factory is a high-quality silicone toy which wraps around your dick – you can either stroke it up and down or hold it in one place and let its vibrating wings gently flicker against your shaft.
A wand is a toybox essential because it can be used in so many ways on lots of different body parts. Try using the Le Wand Cordless on your partner's clit during sex and then turn the attention on to yourself by adding a penis stroking attachment.
Cock Rings
These rings are designed to loop around the base of your penis (and sometimes your testes too) to restrict blood flow, resulting in harder, longer-lasting erections.  Vibrating cock rings add the extra benefit of stimulation for you and your partner (most women require extra clitoral stimulation to orgasm during partnered sex and vibrating rings are a really simple way to achieve that).  
Product picks:
This Super Soft C-Ring by Tantus is a perfect beginner's option to see if you like the sensation of a penis ring.
This vibrating ring by Satisfyer has app control so you can play with a long distance partner or control the vibration using your phone. 
Remember: finding the right toy for you can take a little trial and error. If you're not sure where to start you can visit your local sex-positive store on the high street to get a feel for the products in real life, or check out bloggers like Obsession in Rouge or CaraSutra for no-nonsense toy reviews.

Poppy Scarlett Lepora
Poppy Scarlett Lepora is a pleasure educator and owner of the online sexual wellness boutique, Self & More.
@poppyscarlett_  @selfandmore