Author: Rebecca Ball
If things are feeling a little stale in the bedroom and you've started to look into ways to spice your love life up, it can feel overwhelming. It can be hard to know where to start as there is certainly not a lack of information out there - when it comes to sexual exploration. If you've discovered sexual kinks online and feel this could be something for you, it's still not easy to know where to start. 
A kink can be defined as a behaviour or activity which challenges you to push your limits. The prospect of kinky sex can feel daunting, but it is perfectly natural to want to explore your fantasies and desires. Before you contemplate designing your own 50 Shades of Grey dungeon, there are several beginner steps to a kinky sex life…
Talking Dirty
You can set the scene for kinky sex by talking dirty to your partner in the bedroom. This will encourage you to expand on your traditional roles. In addition to this, dirty talk will also open up sexual communication with your partner which will ignite the lust of yesterday. 
●    Are they interested in sex? ('Do you want to tie up your hair?')
●    Ask for guidance ('How do you like that?')
●    Are they ok with this? ('Is this too rough?')
●    Begin to explore role-play ('You're a naughty boy/girl')
Learn to be Dominant
If you've ever initiated sex then taking charge is something you've already tried - maybe through giving directions or making subtle (or not so subtle) demands of your loved one. You can further explore this role and make it kinky by using a little more aggression. For example, holding your lover's head tightly as you kiss, or you could grab them suddenly and whisper intensely into their ear that you need them now.  
You could also take the dominant role a little further and explore the use of props. A simple blindfold can help to make your partner feel less self conscious and lower their inhibitions. You could introduce some like spanking which could (or could not) lead to more adventurous sexual play.
Learn to be Submissive
The role of the submissive is highly variable and not limited to crawling around on your knees, at the will of your master. Even if you're the one whose used to taking the lead, you can reverse roles in a subtle way to begin with the use of one-liners in the bedroom:
●      Please Sir/Ma'am
●      Yes Master/Mistress
●      As you wish
●      How can I please you?
●      Thank you
You could use these words afterwards in everyday life to spark your lovers interest and remind them of your intimate time.
Make it Work For You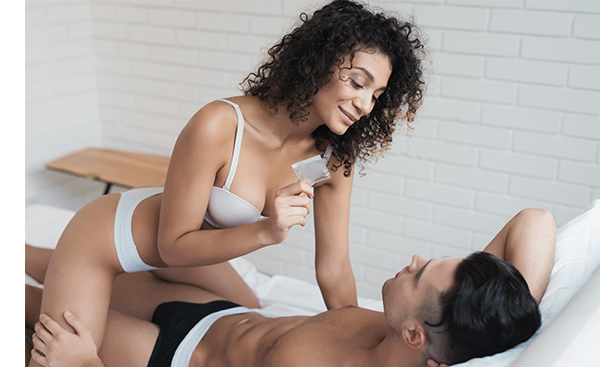 Kinky sex can mean very different things for different people, there's no right or wrong. Exploring kink can be as simple as discovering what happens when your usual routine is altered and a whole new world of sex opens it's doors to you. It is ok to close that door as soon as it opens if you don't feel secure - it isn't going to benefit your love life to do things you don't feel comfortable doing.
The keys for successful kinky sex are the same as all other aspects within your long-term relationship:
●      Communication
●      Understanding
●      Trust
●      Patience
You're not going to fully know whether or not kink is for you unless you try it. Start small and give it a go - there is nothing to lose and perhaps a lot to gain!